Customer feedback & satisfaction metrics made easy.
Understand what your customers think about your product. Omnisome helps you collect customer feedback so you can make better business decisions. Discover your path to customers' minds with Omnisome surveys.
Omnisome is forever free. Upgrade anytime.
Satisfaction score surveys
Find out what your customers think about your product in one simple metric
Smart feedback tool
Collect insights directly from your customers based on their satisfaction score
Milestone progress tracker
Monitor how your business decisions impact satisfaction score with milestone tracking
Customer satisfaction score
Customers will rate their liking of your product - Omnisome will do the rest. We will calculate the score to determine groups and provide them with a follow-up question.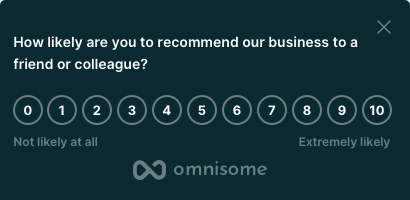 Customer feedback
Collect feedback from your customers to understand their needs, wants, and delighters. Make data-driven decisions to improve your products.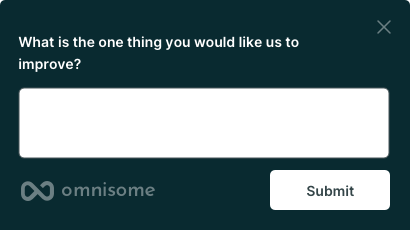 Define the scope
Run product-wide or action-specific surveys. With Omnisome, you have a full control on when and where your feedback surveys appear.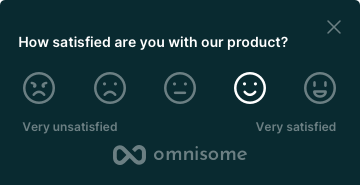 Simple interface
Choose from various survey types the one that fits your audience and style of communication. Style the surveys to fit your brand and corporate identity.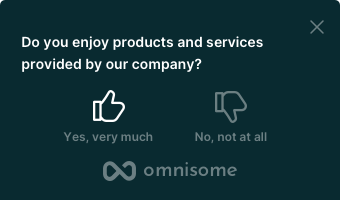 How does it work?
Find out what your customers think about your product and make it awesome
Set up a survey
Choose the survey type and use the wizard to get your surveys ready in no time
Add snippet
Include JS snippet in your site or web app
Start receiving results
Receive satisfaction score and feedback from your customers. Mark important changes and events as milestones and monitor impact
Manage all surveys and feedback in one place
Omnisome dashboard is your one-stop resource for satisfaction surveys and feedback. Overview score, locations, feedback, and manage product milestones for free.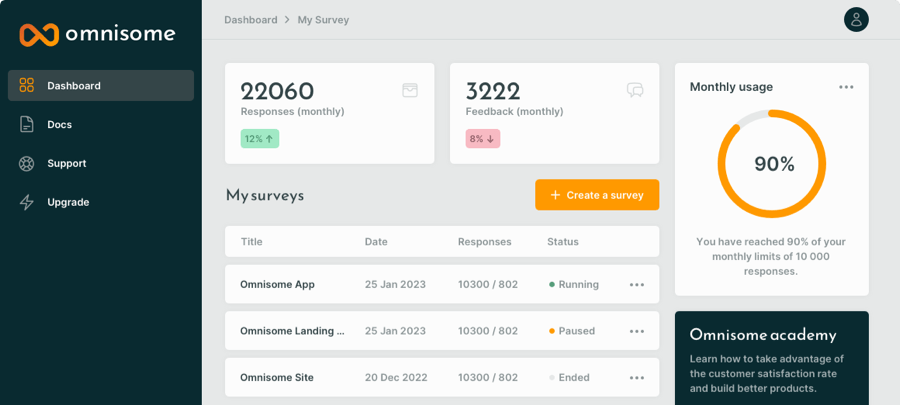 Your path to awesome products
Omnisome gives you all the tools to build your customer feedback loop for free. It has never been easier to understand your customers.
Get satisfaction score & feedback from your customers
Display surveys at the right time and place - you have full control
Annotate your changes with milestones and see the impact
Omnisome never collects personal data about your customers
It's time to start understanding your customers
Stop playing guesstimates. With Omnisome, you are building a lean feedback loop with your customers joining the game.