How to add an Omnisome survey to WordPress
WordPress is the most popular content management system in the world with 40% of all websites running on WordPress.
Individuals are running their personal blogs, local businesses build their websites, and large corporations are using WordPress.
What makes WordPress great is that you don't have to be a web developer to create and manage your website. Anyone can do that with little to no effort - pick a theme, install plugins, and you are good to go.
No matter what size you are, you still need to collect feedback from your WordPress site visitors. It can help you to popularize your blog, improve your business, or boost your agency.
In this article, we will look into how you can add an Omnisome customer satisfaction and feedback survey to your WordPress site without touching a line of code.
Creating a survey
To add a customer satisfaction and feedback survey to your website you need to create it in the first place. For that, you need to register your free account with Omnisome. You don't need to provide any credit card details and the process takes less than a minute.
Once you have your account ready, create a survey using the Omnisome survey wizard. Change the appearance of your survey to fit your brand or adjust questions. You can even localize your survey if your target audience is non-English speaking.
As your survey is ready, you will see a JavaScript code snippet that you will need to insert into your WordPress site.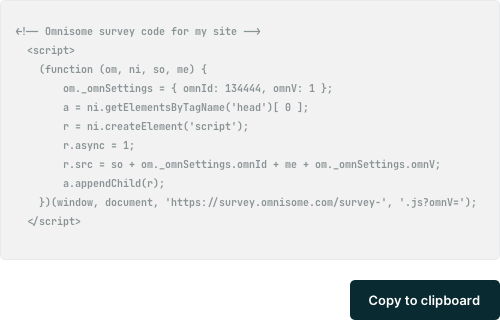 Don't worry, you will need just copy and paste the code without making any changes.
Adding the survey to your WordPress site
We assume that you have a WordPress site running and you have access to the WordPress admin panel. If not, make sure to contact your website administrator to provide you with credentials.
To add the Omnisome code without coding, we will use a WordPress plugin that allows adding JavaScript code to your WordPress site.
WPCode is a popular WordPress plugin with over 1 million active installations. It is easy to use and you can install it for free from the official WordPress plugin repository.
To install WPCode, follow these steps:
Open your WordPress admin panel
Navigate to the Plugins section
Click on the "Add New" button
In the search field, write WPCode and click "Enter"
Click on the "Install" button and wait for WordPress to install the plugin on your website
Click on the "Activate" button to activate the plugin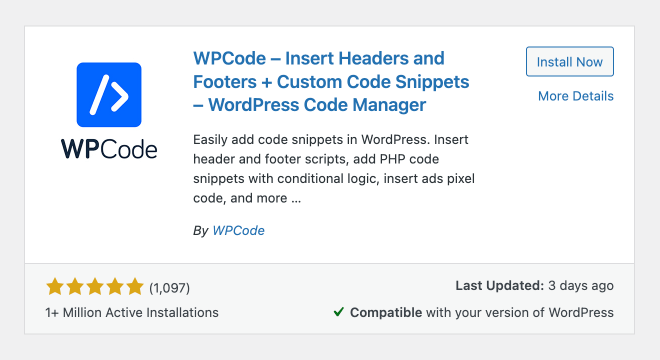 At this point, you should have the WPCode plugin installed and ready to use. Now it's time to add your survey to the site.
To add the Omnisome survey, follow these steps:
In the Omnisome dashboard copy the JavaScript code snippet of your survey
Go to your WordPress admin panel
In the left menu, go to WPCode - Header & Footer
Scroll down to the Footer section and paste your JavaScript code
Save changes
Open your website in the new tab - your survey should appear with the delay you have chosen when creating the survey
Congratulations, you have successfully added the Omnisome survey to your WordPress website.
Afterwords
With WordPress, you don't have to be a web developer to integrate Omnisome into your website.
A simple WordPress plugin can help you start collecting customer satisfaction scores and feedback.
With Omnisome and WordPress by your side, it has never been easier to start collecting feedback to build better products, services, and websites.
It's time to start understanding your customers
Stop playing guesstimates. With Omnisome, you are building a lean feedback loop with your customers joining the game.