• BLACK FRIDAY SALE • 50% OFF ALL PREMIUM PLANS • USE COUPON CODE: BLACKFRIDAY2023 •
Omnisome launches feedback surveys
Omnisome is announcing the launch of a new survey type - feedback surveys.
Feedback surveys are an easy and fast way to collect feedback from your customers or site visitors. With a one-step feedback survey, businesses increase the conversion rate for data collection and receive more feedback.
The new surveys are available to all Omnisome users and mark the next phase in Omnisome development focused on extending the survey types.
About feedback surveys
In today's competitive business landscape, feedback plays an important role in understanding customer preferences, pain points, and expectations.
Customer feedback surveys are one of the most popular ways to gather feedback. It allows businesses to automate the processes of feedback collection. With more feedback coming in, businesses can make data-driven decisions and monitor the results.
The key to success for feedback surveys consists of two main factors - time and place. Feedback surveys should never disturb customers from completing their goals. The surveys should be simple and short as this will significantly impact the completion rate.
Omnisome feedback surveys
Omnisome feedback surveys follow the best principles by allowing users to have full control over the placement of the survey.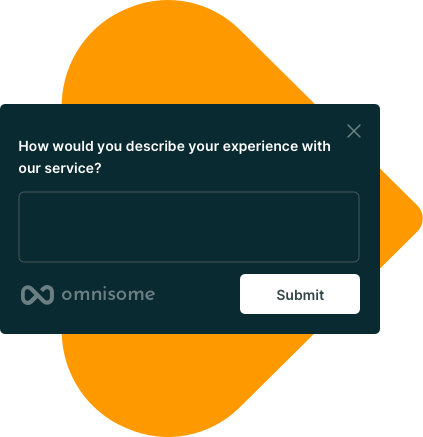 Just like with the satisfaction surveys, Omnisome provides users with a JavaScript code snippet that can be easily integrated into the website. With the code snippet added, the survey will be displayed on the chosen pages with delays and frequency defined in the Omnisome survey wizard.
Omnisome feedback surveys consist of a single question that can be easily adjusted or localized for different markets. The one-question format allows to significantly increase the completion rate to receive more feedback.
In addition, feedback surveys are completed with an Omnisome analytical dashboard. The dashboard allows you to filter feedback and annotate important events (milestones).
Are you ready to build better products?
How to get started with feedback surveys?
Omnisome feedback surveys are available to all registered users.
From your Omnisome dashboard, select "Create a survey" and choose "Feedback survey".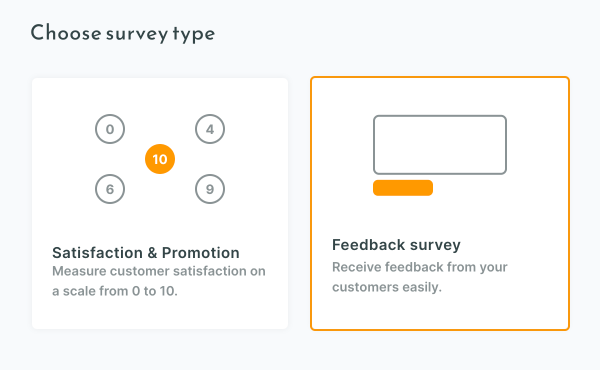 The Omnisome survey wizard will guide you through the process of creating a feedback survey. Adjust default display settings, manipulate with content or localize the question, and style the survey to fit your branding guidelines.
Once the survey is published, use the JavaScript code snippet on your website or application to trigger the surveys.
All results will be stored in the Omnisome dashboard with filtering options available for detailed analysis.
We are thrilled to offer you an easy way to collect feedback from your customers. Join Omnisome today and experience a new way to measure customer satisfaction and collect feedback.
It's time to start understanding your customers
Stop playing guesstimates. With Omnisome, you are building a lean feedback loop with your customers joining the game.